GiG Foundation focus is glocal. A glocal focus on serving humanity by building infrastructure that enriches an impoverished community. The passion to provide an opportunity to the less fortunate drives the foundation to focus on eight major themes: Feeding the Hungry, Infrastructure, Philanthropy, Training (Education, Domestic Violence), Technology, Finance, Prayer and Physical and Program Design.
GiG's strategy of engagement ensures that the community needs are met by collaborating with individuals. Beliefs and values of the foundation shall NOT be instilled on the users of the various programs but through a collection of resources, solutions geared towards alleviating problems will be generated and executed.
No discrimination of race, color, religion – GiG Foundation serves HUMANITY.
GiG-F is based in Fuquay Varina, NC and works with seven individuals that head the major themes listed above. GiG-F is registered in the US.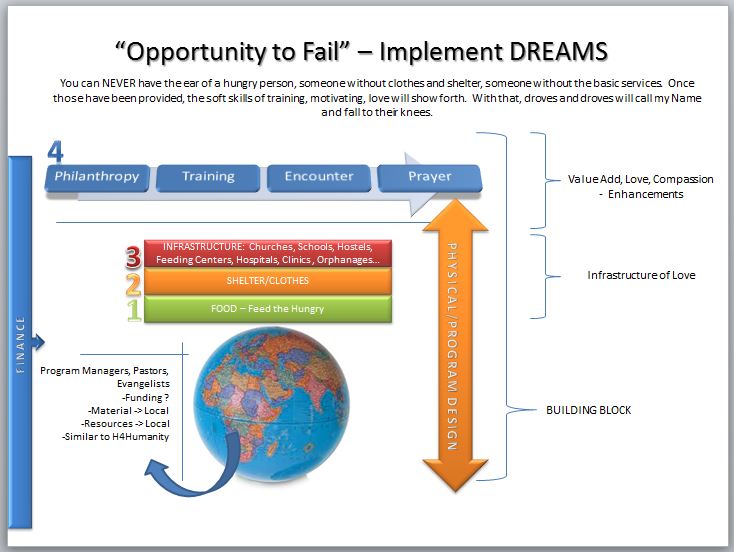 GiG Foundation was officially launched on March 2, 2012. The vision to build infrastructure, serve humanity, provide opportunity and implement dreams has been the desire of the Foundation. All promptings to develop this Foundation has been provided by God. NO Glory goes to Man.
GiG Foundation goal is to prevent cruelty to humanity, to serve humanity by obeying God's Will by building infrastructure, inserting Godly leadership to manage enriching systems, and show God's love to humanity globally.
The infrastructure and systems include, but is not limited to:
Churches
Schools and scholarship provisioning
Hostels
Feeding Centers
Hospitals
Funding Premature Babies Prevention and Care
Clinics
Shelters
Growth and Leadership Development Programs
Multimedia Publications
We were privileged to be a part of a mission team on a trip to Higuey, DR in late March for five days (March 19th – 23rd, 2018). Our objective was to assess the need to build a church for a local pastor. In five days, we had 3 church services back to back at...
CONTACT INFORMATION
GiG Foundation
P.O. Box 1408
Fuquay Varina, NC 27526
Email: information@gigfound.org
Telephone: 919-436-6041